DEAR ACTIVISTS, ARTISTS, CULTURAL WORKERS, GROUPS, AND ORGANIZATIONS,
Are you tired of spending what little money you have on renting a video projector, depending on small, dull video projections, old televisions, or the screen of your laptop when you are presenting the work of you and your comrades? The NCA would like to help.
The NCAAV is developing a pool of equipment and other resources to help support the technical needs of Chicago's independent cultural workers. I've got a growing pool of equipment and technical knowledge to share. If you have equipment to loan, share, or give or if you know of affordable sources for renting and borrowing equipment please share with the NCAAV.
To borrow equipment please contact me, Mike Wolf, and we will see what arrangements can be made.
Keep up the good work.
Best Wishes,
Mike Wolf

Press!
Daniel Tucker wrote an article featuring the NCAAV for Clamor Magazine! #29 November/December 2004, the one with two adorable activists (they are all adorable) on the cover. Get it, read it, we're famous!
Some past NCAAV users:
Mess Hall, Genewise, Marc Fischer and Melinda Fries, John Wanzel, 1R Gallery, Gardenfresh, Artist Emergency Response, Dogmatic, Standard Gallery, Thomas Blackman Associates, Western Exhibitions, Jibangus, Basekamp, In the Field, Art Ledge, red76, Marriage, Hyde Park Art Center, Bucket Rider Gallery, Bridge Magazine, New City, White Walls, PILOT Chicago, Dan Gleason, Center for Urban Pedagogy, Speaking Ring Theatre Company, My Dad's Strip Club
THANKS! to the following for their donations of equipment:
Meg Duguid
Dan Gleason
Kim Seger
Jane Palmer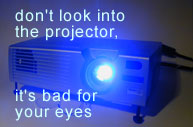 some equipment available:
LCD Data/video Projectors, TV monitors, TVCR's, VCR's, DVD Player, Hi-fi audio playback equipment, Mini-DV Video Camera

also available:
small run duplication of CD's, DVD's and VHS tapes.

other A/V resources:
Please help me grow this list!
Naivete Records has an impressive array of P.A. gear suitable for a room much bigger than your appartment and reasonable prices
Gallery 400 rents their video projector out at cheaper rates than a rental house, if they aren't already using it.

Students! don't forget to exploit your school's media center, a lot, and help non-students get gear from there too.
9-to-5ers! does your work place have an A/V dept? Make friends with them, borrow stuff.