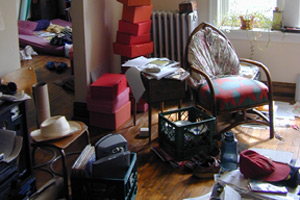 After months of preparation, in Spring 2007 I packed a pile of my earthly belongings into a storage closet that a friend is letting me use for barter (not sure what the trade is yet but it's gotta be better than paying one of those wierd storage companies). I sold a bunch of CD's and gave the rest of my belongings away at a Free Store that Salem Collo-Julin and Melinda Fries helped me organize. I quit my Job and left my Humboldt Park apartment of 6 years for the last time. All this in preparation for several months of experimentation, living as a nomad until October or so.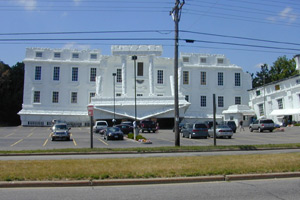 The White House in Wisconsin Dells. I met a woman from Wisconsin Dells who was selling arts and crafts at the Prairie Island Powwow . When I told her I had recently been through there she lamented, "It used to be so beautiful there."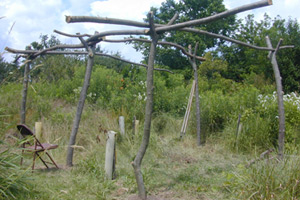 One of my first destinations was Dreamtime Village, an anarchist community in West Lima, Wisconsin. I spent a week there. $8 a night plus a couple hours of labor per day was what they asked. My job was to build this pergola for kiwi vines. We made it with sumac we cut down to make room for chestnut trees. I worked on it with a16 year old guy named Kesh from Minneapolis, who was at Dreamtime for a month. Lucky kid. We had fun working together and became friends.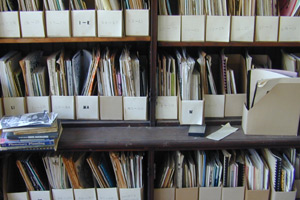 This is a small part of the Dreamtime archive of independently published and distributed literature and mail art. Some of this may be included in the exhibition in the Fall. There are truelly some wonderful treasures hidden away in here.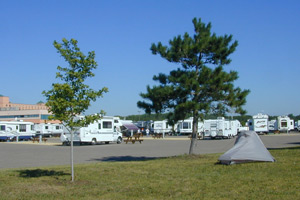 Once again the only tent at the Treasure Island Casino RV Park on Prairie Island. From this spot, if I keep the tent flap open, I can keep an eye on the Prairie Island Nuclear Power Plant all night long.
Working Statement
Summer 2007

The Domestic Struggle Part Two is series of travels, social events and an exhibition intended to draw links with, and speculate about, remote enclaves, marginal and alternative domesticities, caravans, refugia, retreats, marginal travel infrastructures, rural cultural networks, rarefied spaces, and hopeful place making.

In a continued search for Midwestern hospitality and effort toward non-destructive, creative land speculation, this summer is the third summer in a row that I've taken time to walk through some rural area of the Midwest. In 2005 I walked in Illinois, from Chicago to Mahomet with Bonnie Fortune. In 2006 I walked from Red Wing to Truman, Minnesota. Now, 2007, I have embarked upon a trip of a somewhat more extended scale to continue to accumulate a something of a pilgrim's experience, linking back to rural lands that are territories of both my genealogical and cultural heritage. But also this is an effort to link forth to the places and people that, on different levels, sustain the urban living of my social and cultural circles. This travel can be considered, among other things, a descendant of and in the context of back-to-the-land-movements, the modern bohemian nature frenzy, landscape art, immigrant land settlement/development (go west young man), and all of the great drop outs. This trip began when I left my job and apartment in Chicago last May with the intention of living nomadically until the Fall, when I will translate the experiences and connections I've have drawn "out t/here" into an exhibition and series of social events based at Roots and Culture, an independent, non-profit gallery in Chicago, but may also include events at Mess Hall, or other venues, and a group bike ride to Milwaukee.

I am traveling as an experiential researcher. It is my agenda to incorporate the voices of some of the people and places that I encounter as I travel into the exhibition in Chicago as well as to incorporate the voices and work of people I already know in Chicago and else where.

Finally, both the travel and the exhibition are part of a long term research project: My dad and uncle own 40 acres of farm land in southern Minnesota. Having some say over what happens to this land, eventually assuming more "say," I am researching and drawing connections with people who might want to help me with the process of defining and finding uses for that place.

Preliminary list of actual and potential contributors, artists and otherwise:
Roots and Culture - main exhibition venue
Mike Wolf - organizer/interpreter/decorator
subRosa - Refugia Manifesta
Mary Walling Blackburn - the blanket fort, the ruined bed...
Dreamtime Village/Xexoxial Endarchy
Vasa History Museum
Dhamma Pakasa
Dan Gleason and Luke Smarto
Nance Klehm
Dan S. Wang
Karin Patzke
Sarah Stickney
Philip Von Zweck - VONZWECK
Prairie Island Mdewakanton Community
JAM - grassy fiber artists
Miss Rockaway Armada
Winona LaDuke - White Earth Land Recovery Project
Mess Hall


Approximate travel itinerary:
June 12-july 2 Dhamma Pakasa, Pecatonica, IL
July 3-4 Dan S. Wang's place Madison, WI
July 6-11 Dreamtime Village, West Lima, WI
July 12-16 Prairie Island, MN Summer Wacipi (That's a Powwow)
July 17-24 Vasa, MN Vasa History Museum Red Wing, MN Anna Brown's house and Charles Biederman's studio
late July or early August somewhere on the Mississippi River with the Miss Rockaway Armada
August-September Oak Center, MN Mankato, MN, Mary Anderson's place (my grandma) Jeffers, MN, Jeffers Petroglyphs Truman, MN, Wolf Farm, Truman Historical Society Twin Cities, Mom and dad's guest room, Charles Biederman archives, speak at the Belfry
October Chicago, IL install exhibition at Roots and Culture


Possible events:
Group Bike Ride to Milwaukee
Travel slide show by me
Screening of "Asylum" (Natasha?)
Screening of "Doing Time, Doing Vipassana"
Screening of "Wild Rice and the Ojibwe People"
etc...

Midwestern Cultural Migration Coridors
Have a look at a small graphic project I did related to my on going research in the Midwestern U.S. Basekamp, a cultural collaborative and space based in Philadelphia solicited ideas for an ongoing think tank they are coordinating called "Plausible Art Worlds" They asked people to contribute posters or ideas for plausible artworlds that then became part of a Basekamp project at the ICA in Philly.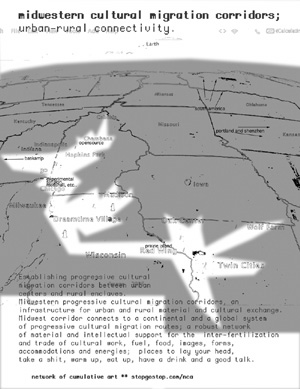 Click the image to see a larger version

I am proud that the poster was noted in an article that Alan Moore wrote about the exhibition at the ICA.