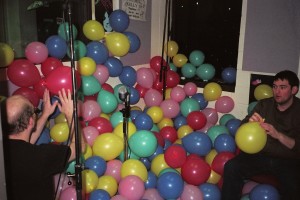 On January 9, 2005, the blind spot radio program filled the on-air studio with as many balloons as Eric, Jake and I could blow up (which happened to be 1,190) and then entered the room and popped them one at a time with a needle taped to a stick.
Conceived by Eric Humphrey and John Wanzel. Performed by Jake Quickel and Eric Humphrey, engineered and produced by John Wanzel.
This is the first time the complete recording of the program is available. I had hoped to fill the studio with 3,000 balloons, but my budget and the 2 hours we had to blow them up were the limiting factors.
I am repackaging a few radio works from the 2000's and re-releasing them on the podcast.
Night of 3000 Balloons
[ 53:07 ]
Play Now
|
Play in Popup
|
Download