A project by Philip von Zweck
PERFORMA 11 | November 12 & 13, 2011
at INVISIBLE-EXPORTS
For this performance, von Zweck recruited a wide range of artists to each produce awork for display with the understanding that these pieces are not for sale. Instead,they are master-copies waiting to be printed. At the request of any gallery-goer, awork will be taken and copied in an on-site photocopier. Each copy will be stamped,numbered to ensure its authenticity, and then given to the person who requested it.The prints are free, and the print run is limited to the total number given out for the duration of Fluxus Weekend.
Participating artists: Tim Bergstrum, Michael Bilsborough, Holly Cahill, Jeff DeGolier, Andreas Fischer, Katy Fischer, Carson Fisk-Vittori, Pamela Fraser, Erik Frydenborg, Paul Gabrielli, Bill Gross, Magalie Guerin, Danielle Gustafson-Sundell, Kevin Jennings, Brian Kapernekas, Lisa Kirk, Christian Kuras & Duncan MacKenzie, Gareth Long, Heather Mekkelson, Matthew Metzger, Melissa Oresky, Steve Roden, Amanda Ross-Ho, Steve Ruiz, Brian Taylor, Scott Treleaven, John Wanzel
printing Amanda Ross-Ho
printing Christian Kuras & Duncan MacKenzie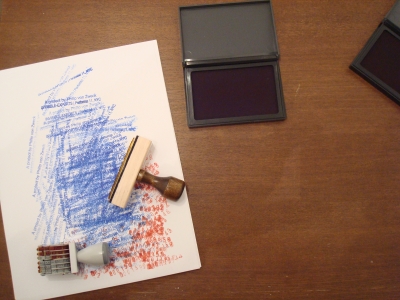 stamp pad