I worked for about 7 years at the Museum of the Art Institute of Chicago. I left the job on good terms in the Spring of 2007 (and maybe I'll have to go back someday). During that time there were two staff art exhibitions and I participated in both. The second was in January 2003, I did a two part project called Under the Lions, based on the now discontinued Between the Lions newsletter for museum employees. Part one was a single-page, two-sided, alternative newsletter that included a brief history of the effort to organize employees at Chicago museums in the late 90's, including the Art Institute (from what I understand The DuSable Museum of African American History was the only one that succeeded, though I am not sure if that union still exists). It also included a list of movies about organizing labor and worker empowerment, some relevant web links, and a call to join an email list-serve for discussing workers issues at the Art Institute (the list serve never took off.) I made 1000 copies of the newsletter. They were given out at the gallery, posted all around both the school and museum, and some were hidden around in the bowels of the museum, in the hopes that they would be found many years down the road. The second part of the project was a mural on the gallery wall, and over-sized reproduction of the Under The Lions newsletter left blank. Gallery visitors were invited to use the big black markers to mark up the wall. The text of the newsletter is currently lost in the NCA archives but will be posted eventually. In the mean time, have a look at these recently un-earthed snapshots of the mural.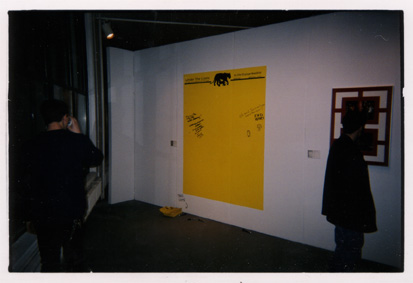 I began this project out of an interest in teaching myself a little bit about organized labor, something that my formal education never even really alluded to, much less taught me anything about.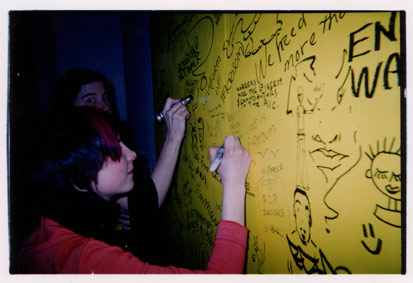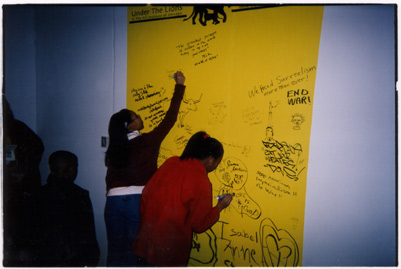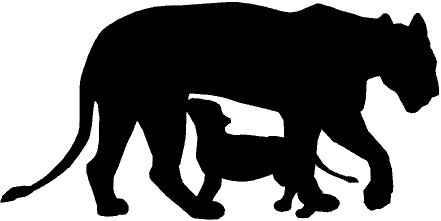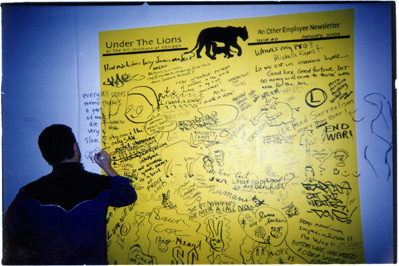 Of course many people contributed to the making of this project, but Therese Quinn should be give special acknowledgement for the time she took to talk me as I worked on this.




This project was one of the more nerve-wracking things I've taken on. During the weeks after the opening of the show I became very paranoid for the future of my employment at the Art Institute, but it never amounted to anything more than my own paranoia, even though I do recall experiencing quite an adrenalin rush when I saw the one of the Human Resources honchos walking down the hall in the administrative wing of the museum with a UTL in his hand.