The Domestic Struggle Part One: Bachelor Pad Fabrics, Stretched and Perforated
By The Network of Cumulative Art
Opening Reception February 1, 6-9pm
Other Thursdays in February 6-9pm (BYOB)
or by appointment (BYOB)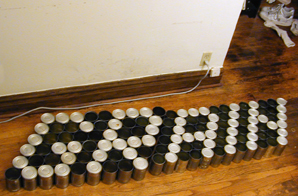 Empties (2006)

The Network of Cumulative Art redecorates Philip's living room using materials exclusively "mined", very domestically, from Mike Wolf's Humboldt Park bachelor pad.* The materials are selected from approximately 6 years worth of accumulation ("post-consumer waste"). "The Domestic Struggle Part One" is many things including but not limited to: yet another look at the domestic interior, an act of ritual disposal (a long good bye), and hopefully a terminus in a series of private psycho-spiritual experiments with waste mismanagement. Also, and perhaps first-of-all, it is an opportunity to play bachelor; come out/in to Thursday evening open-hours to play video games, watch movies, and drink beer (or whatever you prefer to bring).
The Network of Cumulative Art (NCA): There is no such thing as not collaborating. The NCA is a soft skeleton and Mike Wolf is the pelvis; it is a dynamic body of social, economic, and intellectual free associations that make work possible. Current and past efforts include the sharing of audiovisual equipment, the informal granting of money, writing for the likes of Gallery 400 and Green Lantern, and working associations with the likes of Mess Hall, Bonnie Fortune, Dan Gleason, Nance Klehm, stopGOstop.com, Dogmatic, Brian Taylor, and Annie Morse to name a few.

*The one note-worthy exception to this fairly strict rule is the free booklet, a sprawling contextualization of "the struggle", which guests, of course, are invited to cram down their own domestic mine shafts.