Ferris Wheel
An Exhibition of Photographs and Videos by Jenny Walters

Opening reception Thursday March 2, 6-9pm
Open Thursdays in March 6-9pm
or by appointment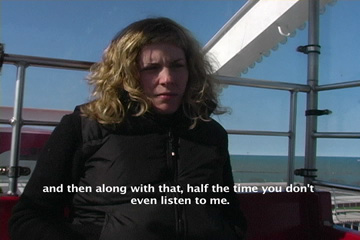 Jenny Walters directs her family and friends in mini-scenarios that are part document, part performance. The result is a pop-psych analysis and anthropological field study through video and photographs. In this new work, Walters explores ways in which past familial patterns play out in our present day lives.
Jenny Walters earned her MFA from the University of Illinois at Chicago in 2004 with a focus in video and photography. Recent exhibitions include a solo show at Galerie Andre Kermer, Leipzig, Germany, inclusion in EAST International, a juried exhibition curated by Neo Rauch and Gerde Lybke at Norwich Gallery, Norwich, England, Hot Shots at Jen Bekman Gallery, New York, NY and A Parliament of Owls at the Museum of Fine Art, Houston. She currently teaches photography at DePaul University in Chicago.