Ahbyezyana
A Site-specific Installation by Deborah Stratman & Rob Ray
Opening reception Thursday December 1, 6-9pm
Open Thursdays from December 1 through mid January, 6-9pm
or by appointment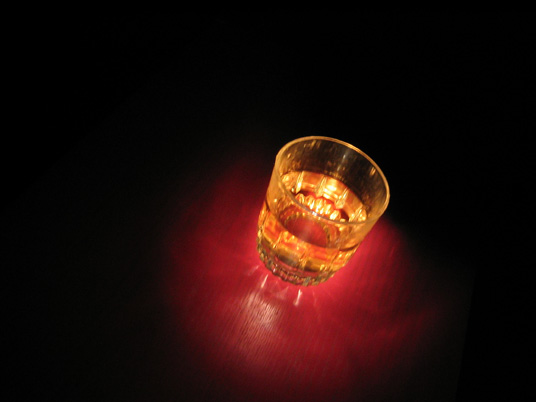 A site-specific, telekinetic haunting inspired by Andrei Tarkovsky's film "Stalker" and the central character's mute daughter who is nicknamed Ahbyezyana (Monkey). The installation will include sonic and kinetic sculptural elements.
"Stalker" is a science-fiction film structured as a metaphysical journey in search of inner truth and self-worth. Stalker is the name of the film's central character. He is a guide through the "Zone" - a post-apocalyptic soviet landscape which is a minefield of perceptual illusions, booby traps, and shifting geography. The Zone has been officially recognized as a forbidden area by the government ever since an investigative group went missing (eerily foreshadowing Chernobyl, where the chemical spill area was also referred to as 'the Zone'). Legend has it that nested within the danger-ridden Zone is a sentient room where one's deep inner wishes are granted. The room sees through superficiality and grants not what you may think you desire, but the desires of your soul. Stalker is someone trained as a guide for people willing to risk their life to reach this wish fulfilling room. The film is, in the end a deep probing of faith, belief and desire.
Eventually we find ourselves back outside of the Zone, inside Stalker's house - a raw wooden building adjoining a train yard. The film concludes with a scene of Stalker's daughter Monkey performing what appears to be a magical feat of telekinesis by willing a group of glasses to move across the kitchen table.

Deborah Stratman is a Chicago-based filmmaker who leaves town a lot. Her films blur the lines between experimental and documentary genres, and she frequently works in other media including photography, sound, drawing and architectural intervention. She is presently collecting responses about FEAR (call toll-free: 1-800-585-1078) and is working on a film about preteen fire starters and utopian communities in Illinois. Deborah currently teaches at the University of Illinois at Chicago.
Rob Ray is an artist living in Chicago. Rob is rarely prone to fly around the room or jump up and down and yell at you - which means most of the things he makes have a tendency to do exactly that. Rob also runs the Chicago-based Deadtech art space.