Karen Reimer
Opening Reception April 5, 6-9pm
Other Thursdays in April 6-9pm
or by appointment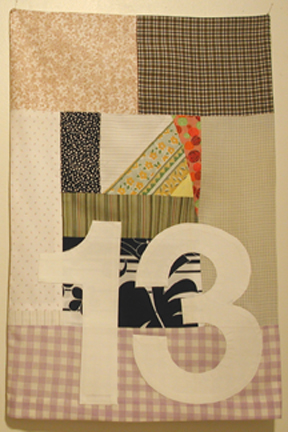 Thirteen (2007)
I don't know if you know this, as I am behind, always just behind, but the next exhibition at VONZWECK will be by Karen Reimer. I don't have a bio to send along, but you might already know her work, she's been around Chicago for a while, earned an MFA from U of C, Artadia Grant you know, the deal. She has shown a lot, especially with Monique Meloche who actually represents her and seems cool about Karen doing this project here, which is great. Karen's work, in case the name isn't ringing a bell, falls into fiber or maybe conceptual fiber if the latter is a category, like beautiful and elaborately worked embroideries- sometimes of everyday things like loose leaf and receipts, scraps of paper, or at least those were the first ones I saw and I've always thought they were great. Monique's
website has some really nice images if you don't know what I'm talking about.
Anyhow this is a new project- or the beginnings of one--involving prime numbers and pillowcases and relying about equally on the traditional practices of early Conceptual art and little old Mennonite ladies, a combination which makes some kind of perfect sense to Karen and far be it from me to say different, and I'm sure it will work really well with the particulars of VONZWECK and I really hope you will come see it.