VONZWECK announces
Germinator
by Melissa Oresky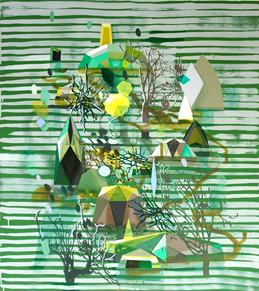 Opening Reception Thursday February 7, 2007 6-9pm
Open Thursdays in February
Or by appointment
VONZWECK is pleased to present new work by Melissa "Moose" Oresky. Germinator is a show one might even call an installation for even as it includes examples of Melissa's painting and works on paper- works in which painterly abstraction and found instructional and scientific imagery meet what might be thought of as sort of crystalline landscape, it is more than just works presented in a white cube, which really, in the case of VONZWECK is not a cube anyhow, it's more like a 7- sided trapezoid or septalateral (is that even a word?- spell check doesn't like it), and in this case is not even white. Some of Moose's works on paper are appropriately pentalaterals (spell check doesn't like that one either) and trapezoids.
Among other concerns, this presentation is about the pleasure and difficulty of the experience of looking as it generates (or germinates) emergent acts of thinking orchestrated by Moose in her placement of works and chromatic manipulation of the space.
Melissa did the classic 1,2 combination of Chicago artists, SAIC BFA and UIC MFA. Along the way she spent some time in Jerusalem and Maine. In Chicago her works can be experienced at the very fine Western Exhibitions but she has also had solo shows at Van Harrison (both NYC and Chicago), Ada Gallery (Richmond) and the Museum of Contemporary Art (Chicago), in addition to many, many appearances in group exhibitions. She is currently Assistant Professor of Painting and Drawing at Illinois State University, Normal, Illinois.