Much More Lecture Series:
Lane Relyea
Saturday November 24, 3pm
VONZWECK
1626 N. Humboldt Blvd.
Limited Seating RSVP ONLY!!!
Lane Relyea is smart as a whip and twice as sharp. He writes for art magazines, he edits publications, he curates exhibitions, he ran the Core Program, he's a Professor at Northwestern and has taught other places like UIC, SAIC and either Art Center or Cal Arts (who can tell them apart?). For this talk Dr. Relyea will be discussing networks, or how "with the increasingly ubiquity of post-studio approaches among artists, sites of production have themselves become mobile; no longer is it fixed enclosures like the studio or museum that exudes aura but rather the lines inbetween, the routes of distribution and circulation connecting the various center cities and art world hot spots. The ability to shuttle along these pathways, to partake of the network's scaffolding of spokes and nodes, is what incites real competion today."
Much More Lecture Series:
Paul Nudd!!!
Thursday August 23, 7:30pm
LIMITED SEATING, RSVP ONLY!
some Nudd "guaranteed to make you shitty" Mead
provided but bring whatever else you want
VONZWECK
1626 N. Humboldt Blvd.
This is a RARE, RARE, RARE like (once in a decade) event.
Paul will be sporting his new High On Fire T-shirt, showing some new projects/works in progress, talking about several local artists that he finds inspiring, reading from some of his most beloved literary influences, reading from some of his self-published zines and drawings, sharing his home-made mead and speaking frankly about UIC. Additionally, his new video"DirtBurths" will be shown for the first time. Some other things, too.
So if you are not Matt Pike or Paul McCarthy you better RSVP soon (Paul put those dudes on the VIP list already). You have to know this is gonna' be awesome and is gonna' fill quick...
Paul Nudd's most recent solo exhibitions include "Pus Lust" at Jack the Pelican Presents in Brooklyn, NY (2006) and "Green Slug & Wet Filth: a Dog's Dream" at Bodybuilder & Sportsman in Chicago, IL (2005). He curated two shows this summer, "The Paul Nudd Curatorial Experience" at Western Exhibitions and "KlUsterCRUsTS" at BSD. Recent group exhibitions include "Vomitorium with AgitProp" at Gallery 40000 in Chicago (2006) and "Brown River" at Roots & Culture Contemporary Arts Center. Paul Nudd received his MFA from the University of Illinois at Chicago in 2001. He has recently joined the adjunct faculty at Columbia College, Chicago.
Much More Lecture Series:
Huey Copeland

Thursday August 16, 7:30pm
EXTREMELY LIMITED SEATING, RSVP ONLY!
MBYOB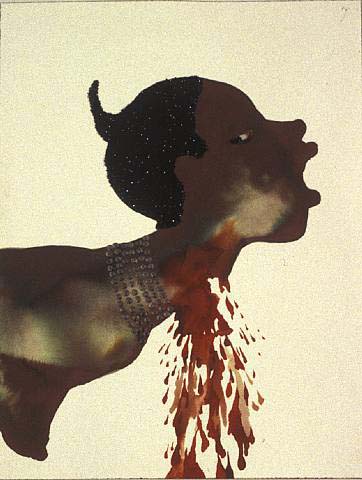 Huey Copeland is not quite down to give a lecture, but he's definitely up for exchanging some ideas about the intersection of meaning, materiality, and modes of internationalism in 19th- through 21st-century artistic production by and about black women.
In this workshop, he is particularly interested to explore the analytical purchase of what writer Hilton Als terms "Negressity," a neologism for his mother's inscrutable and "remarkable way of being."* If "the black woman" has long been a fixture of Western popular, psychoanalytic, and pseudo-scientific discourses, then what does it mean for our understanding of modern art to approach the Negress not merely as an instrumental site or marginalized positionality, but as a world-making practice? Artists under consideration include Romare Bearden, Jacob Epstein, Edmonia Lewis, Kalup Linzy, Wangechi Mutu, Adrian Piper, Cindy Sherman, and Kara Walker.
Huey Copeland is an Assistant Professor in the Department of Art History at Northwestern University. With Hannah Feldman he recently co-curated "Encore" at Chicago's 40000. He is currently at work on "Impossible Objects," a book manuscript that explores the aesthetic and political significance of slavery in the work of Glenn Ligon, Lorna Simpson, and Fred Wilson.
*The pertinent first section of Als's memoir, "The Women," can be read online at:
http://www.nytimes.com/books/first/a/als-women.html
Much More Lecture Series:
John Neff

Thursday August 2, 7:30pm
EXTREMELY LIMITED SEATING, RSVP ONLY!
BYOB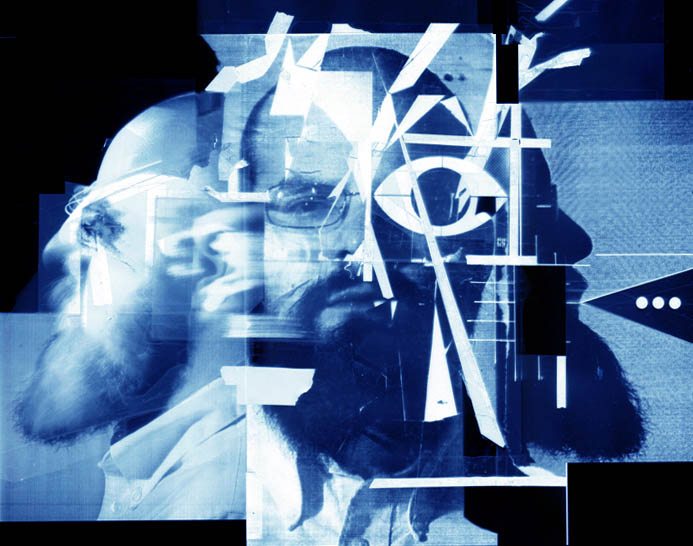 John Neff will deliver a PowerPoint lecture adapted from his essay for the July - August 2007 exhibit "Printed Space" at Chicago's Western Exhibitions.
Excerpted from a draft the "Printed Space" essay: Over the course of the past thirty years mainstream contemporary art's attention has shifted between the picture and the page. That is, the production of artists and critics has privileged images and structures in turn (e.g.the 1980s passage from neo-expressionism to neo-geo, or the similar recent shift of emphasis from Gothic figuration to forms of conceptual montage).
Some "emerging" artists are attempting to synthesize these approaches, to make works that fuse an investment in pictorial effects with a deep concern for and investigation of the structure of art objects and the systems through which such objects are distributed. The small, printed page (photocopies, laser prints, cheap color photos and altered advertisements) is a primary medium of this new art.
Short lecturettes on selected individual works may, time permitting, be included in the presentation.
John Neff's 2006 solo show at Western Exhibitions, Pornographic Pantograph With Allusion To Juan Sanchez Cotan (In Progress, Patent Pending), was reviewed in Art Papers, TimeOut Chicago and several other publications. In February of this year, he staged Snowfall at Occasional Art in St. Paul. Portions of the "Printed Space" essay / lecture are derived from the latter project. Neff received a MFA from the University of Illinois-Chicago in 2001 and currently maintains a studio in Chicago.
2006:
Much More Lecture Series:
Julia Marsh
Wednesday August 23, 2006, 7:30 pm
LIMITED SEATING, RSVP ONLY!
BYOB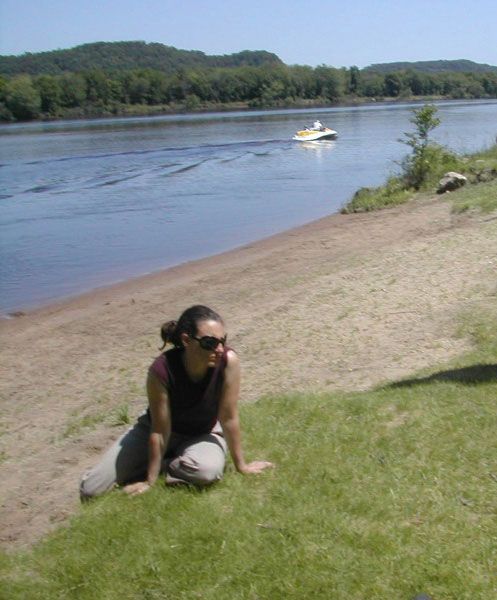 photo by Amanda Browder

For the next lecture at VONZWECK Julia Marsh will talk about the attentive requirements necessitated by art, by which I assume she will just be explaining why the Daily Show is better than a painting or why more people know who Super Mario is than Chris Burden. But I could, I suppose, be totally wrong- there is a first time for everything. She could be talking about the use of, like, audio tours and snazzy video presentations that museums show to contextualize the art, because we all know that people who go to museums to see art need to have their hands held and be told what to think and how to interpret. But again I could be wrong. Either way it wont be boring. OR WILL IT?

Julia Marsh earned her MFA from the University of Illinois at Chicago in 1997 and her BFA from Rutgers the State University of New Jersey in 1992. She hopes to earn her Master of Arts in Visual Critical Studies at the School of the Art Institute by May 2007, while she also teaches the seminar: Why Make Art, Now?, Advanced Photo Projects, BFA exhibition: Critique and Tutorial and keep breathing. Julia has been known to make art, but of late has been focusing on writing and other critical practices involving images. She is a busy co-editor of BAT, working on both editing and contributing (her talk is based on this piece) to the forthcoming issue #3, expected to be available later this month. In addition to this recent written work on contemporary issues regarding attention and contemplation, which her talk at VONZWECK will focus on, she is writing her thesis about the photographs of Abraham Lincoln as a means to understanding this self-aware modern subject. She is also currently working with Patrick Rivers on an image base to accompany his text on miscegenation. In the fall she will be participating in COMA #4, her first art foray in some time, and be a delivering a paper on identity for a panel at The School of the Art Institute of Chicago.

Much More Lecture Series:

A BROAD HAT DOES NOT ALWAYS COVER A VULNERABLE HEAD by Anthony Elms

Thursday August 17, 7:30 pm
LIMITED SEATING, RSVP ONLY!
BYOB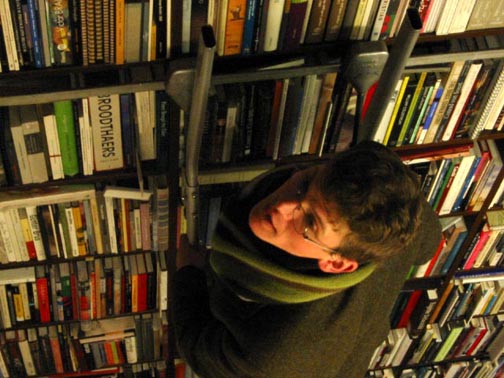 Anthony said "Artist Brennan McGaffey (www.intermodseries.org) has created environmental interference modifications by broadcasting the frequency of the city of Chicago's electrical grid, tones for stimulating, relaxing, or focusing the listener's mind, and sound masking for road noise; manufacturing incidents through cloud seeding, aromatherapy, and artificial star-scape; creating a traveling solar/battery powered, CD-driven micro-pirate radio transmitter with storage for an extensive library of recordings; and altering the regular electromagnetic field of the power lines. Titles for the works are technically explanatory, for example: Low Altitude Atmospheric & Civic Modifications. The only evidence of these activities are streamlined mailers featuring patches, stickers, schedules, and the briefest information."
"McGaffey's wide-ranging inventory of ephemera represents just the support materials for the projects. I take particular interest in McGaffey's use of sound/electricity/energy. McGaffey, in his techniques of dispersion (broadcast, rocket launch, power lines, mail) initiates zones of engagement. He disregards objects to work in open barriers for experiments that propose biological or psychological transformation through technological phenomena. Here the idea of transforming space is best rethought in terms of insinuating experiences, not in terms of architecture as commonly produced with bricks, glass and mortar."
Then he said "just use the bio from my show..."
Anthony Elms overcame his youth as just another punk in Michigan to become the assistant director of Gallery 400, the editor of WhiteWalls, and a writer whose works have appeared in like every freakin' magazine ever (except Artforum, whatever), plus in some exhibition catalogs for stuff that didn't happen at VONZWECK, but was still ok. He's pimped himself out at times; and participated in some panel discussions, but I think the panel discussion is always a bad idea, always. Anthony agrees.
As an artist, Elms' works have been included in projects exhibited at Artists' Space (New York), Boom (Oak Park), Gahlberg Gallery (Glen Ellyn), Hyde Park Art Center (Chicago), Mess Hall (Chicago), Palais de Tokyo (Paris), Randolph Street Gallery (Chicago), Suburban (Oak Park), and Temporary Services (Chicago), among others. He is--allegedly--a member of the world's greatest rock band; Butterfly Fucking a Unicorn, which he believes should be printed as one compound word, and he may have attended U of C at some point.

Much More Lecture Series:
The Mt. Baldy Expedition Nautical Knot Workshop
Tuesday August 1, 7:30 pm
LIMITED SEATING, RSVP ONLY!
BYOB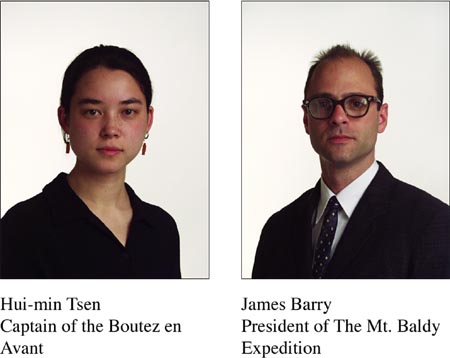 James Barry and Hui-min Tsen will briefly lecture on the history and technology of rope with an emphasis on laid line!!!!!!!!! Mr. Barry and Ms. Tsen will further elaborate on the history, fabrication, and uses of the MTBE's favorite knots!!!!!!!!!!
The Mt. Baldy Expedition is a 21st century voyage of exploration. Inspired by predecessors such as Ferdinand Magellan and Enrique de Malacca, James Barry and Hui-min Tsen have begun a journey of quixotic proportions across the third largest lake of The Great Lakes!!!!!! Over the course of 2004 to 2006, Mr. Barry and Ms. Tsen are building a sailing dinghy, sailing from Chicago, Illinois, to Mt. Baldy, a sand dune in the Indiana Dunes National Lakeshore-- "the once largest live sand mountain in the world!!!!!!!" Mr. Barry and Ms. Tsen are also conducting a series of educational and performative events throughout 2004 to 2006 culminating in a traveling exhibit and lecture tour to share the findings of the Mt. Baldy Expedition with the world!!!!!!!!
Much More Lecture Series:
[seminar] by EC Brown
Wednesday July 12, 7:30 pm
LIMITED SEATING, RSVP ONLY!
BYOB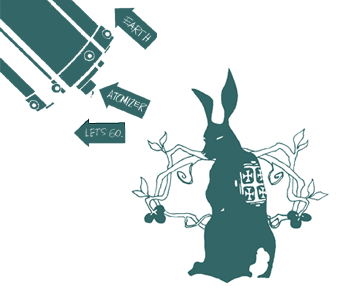 VONZWECK decided to take two months off from exhibitions over the summer and just focus on Visiting Artist Lectures and maybe repainting the space (it's a big space… it could take 2 months to paint). The only problem is, noone who agreed to lecture is actually doing a Visiting Artist Lecture, they have all came up with things other than themselves to talk about. But I think they will still be awesome and I'm RSVPing to all of them. The first lecture in this series will be more of a seminar than a lecture and will be presented by EC Brown.
The [seminar] at VONZWECK will be both an exposition of the development of his Web work, as well as a tutorial for creating a basic HTML website. For those with no website-building experience, this meeting will provide tools to get you started. For those who really really don't want to traffic in websites, this should take some mystery out of the process.
EC Brown (Erik) is a Chicago painter, occasional curator, and co-director of the California Occidental Museum of Art (COMA). After his MFA stint at UIC, he had no intention of getting involved with computers, but a programmer/instructor girlfriend worried that his ineptitude might be a professional liability for her. He was dragged bawling, kicking and screaming to a keyboard in 2000, and has been creating websites as part of his artist profession, and as a creative medium, ever since. He teaches media theory and webdesign-related subjects for Columbia's Interactive Arts & Media dept.

EC Brown's portfolio and online work:
www.kittyspit.net/erik
His website-building tutorial (for artists):
www.kittyspit.net/tutorial

VONZWECK would like to thank the NCAAV for help on this one: www.stopgostop.com/nca/ncaav

Academy Records in conversation with Anthony Elms
Tuesday, March 21 at 7 pm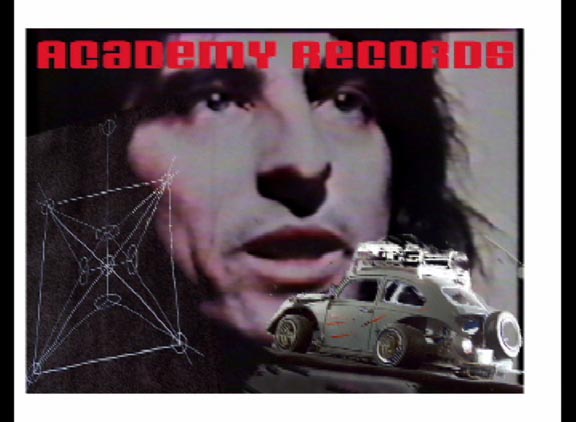 VONZWECK announces the first installment of the Artist Lecture Series with such tentative titles as the Propecia Series, Better than TV [sic], Voices Also, and even, You Don't Know Me.
Please join Academy Records (Steve Lacy) in discussion with Anthony Elms at VONZWECK, this Tuesday, March 21 at 7 pm.
Act fast! Space is extremely limited; the 7 remaining seats will be given to those who RSVP in order of response.
This event is BYOB, but I heard Steve say something about falafel for everyone.
For more info about the work of Academy Records, please see www.academyrecords.org