Legendary Fountain/ Leave the Country (everybody knows this is nowhere)
Steve Lacy

Opening reception Thursday December 7, 6-9pm
Open Thursdays in December and January (closed Dec 21 and 28) 6-9pm
or by appointment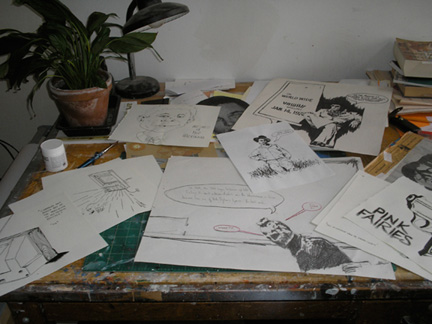 Steve Lacy received a MFA from the School of the Art Institute of Chicago in 2000, and a MA in Sculpture and BSH in Telecommunications from Ball State University (pronounced "BS you", its on I-69 to Ball U) sometime before that. For years Steve has had some, I don't know, schizophrenia or multiple personality disorder or something and so does his projects under the name "Academy Records". He's now decided to work through all his issues and move on with his life, the good news is that the name his parents gave him lost out; the bad news is "Academy Records" won. This show will be the last show under his christian name: THE LAST STEVE LACY EXHIBITION (words in all caps were supposed to be the title to the show, never mind the stuff below). Thus most of these drawings have nothing to do with any Academy Records events/projects/ stuff/ what have you, though he thinks some were probably of inspiration in some way. Most of them have been made since he moved from small-town Indiana, then to LA, then to KC, then to Omaha, which is right outside of CB, to big-city Chicago in 1998. Steve says "There were other considered names for this show some being, ' A Full Face Tattoo as A Reminder of your Duality but of what?', 'Leave the Country/ Beating a Dead Horse', 'It wasn't me, it was the Hex', and 'All Good Ideas End In Tragedy'". Alright I honestly think the last one is good, but I would like to point out that December 7 is significantly the anniversary of the attack on Pearl Harbor (1941) and the US declaring war on Austria-Hungry (1917). Round 3 anyone? But less significantly and therefore more to Steve's liking it is also the 35th anniversary of Frank Zappa burning down a casino in Switzerland, which would later be turned into more crappy 70's rock by Deep Purple in their immortal smash hit song "Smoke on the Water".