High School Boy Strong Heart Style
A group exhibition curated by Yutaka Sone
One Night Only!
Tonight!
Monday, January 30, 7 to 9pm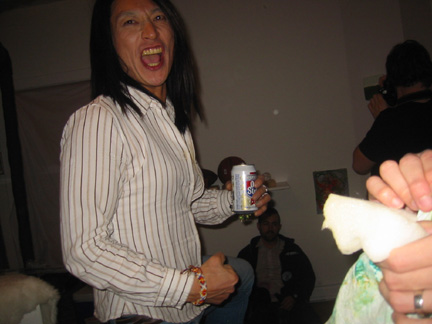 For one night and one night only the whirlwind that is Yutaka Sone has organized an exhibition at VONZWECK that is, in his words "Super Independent Art, No Collectors!", originally intended to be only by and for the artists involved, we've decided to invite everyone… sortof.
Artists include: John Almanza, Michael Bauer, Loo Bain, Rob Bain, Ben Foch, Petrova Giberson, Ben Gill, Japeth Mennes, John Preus, Karen Reimer, Yutaka Sone, Brian Taylor, and Philip von Zweck. I know what you're thinking, that's a lot of artists for a room that's like 14ft by 12ft, how are you going to fit them all? One word: small work. You see, come 9pm (or so) the whole show will be mounted on six 2 ft by 2 ft panels, boxed up and sent to Rikrit Triavanija, who will include it (un-attributed I'm assuming) in the project he and Mark di Suvero are doing at the Whitney Biennial and it will eventually go to Italy or something.
You say you've heard murmurs about a catalog for the exhibition? And you've even heard it will be complete with an essay by Hamza Walker and three sentences by Suzanne Ghez? I've heard that too, but I'll believe it when I see it.