VONZWECK announces
Frank Pollard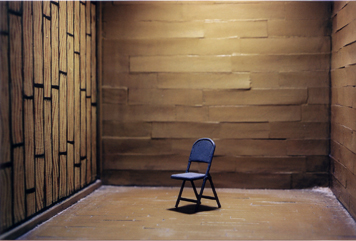 Agency Room of Games and Puzzles Archival digital print 16" X 20" (2007)
Opening Reception Thursday November 1, 2007 6-9pm
Open Thursdays in November, 6-9 PM
Or by appointment
A little over 16 years ago I sat at a table at freshman orientation with an odd half Japanese, half white-trash-army-brat from Miami via North Carolina, or the other way around, the "hello my
name is" tag stuck to his leather jacket read "Knarf". Not six months later Bernard Williams separated us in drawing class because we kept talking about Einstruzende Neubauten and Lydia
Lunch rather than focus on the still life. Four years after that we found ourselves two of the roommates at the Monster Robot House in Bucktown, Frank painted the living room in the Barbie Dream
house colors. We watched Ken Anger films with the sound turned down and the Melvins turned up, eventually I danced on the kitchen table and kicked in the bathroom door on Bill, but somewhere in the chaos had the foresight to trade Frank a loaf of Jalapeno-Cheese bread for a workon canvas. Frank did a lot of paintings and drawings at Monster Robot, he still does and also photo and video, but no matter what the medium he has followed a singular vision or perhaps singular visions for the long time which I have known him, a vision which comes from his dreams- an often hauntingly empty Lynchian landscape
frequented by the pregnant incidence- actual or inferred- of a down right Cronenbergian cast of characters which many of you will remember with fondness with from when Frank lived in our fair city and showed all the time at places like Joymore, Dogmatic and the Butchershop, he recently graced group shows at both COMA and Roots & Culture with his work. Below is a tadmore about this show, in Knarf's own words:
I guess the basic idea for the show was a collection of agency rooms from my lucid dreams. Some of these rooms I have only seen or been in once but were remembered because of their rarity. These specific rooms are associated specifically to the agency. This phantom organization at times provides me with valuable resources in my lucid state. The lucid dreaming world is a hostile environment rife with various dangers and ancient hostilities. In many cases help from the agency can be as dangerous as any of the various outside threats- whatever they may be.