Vincent Como
Black: Theories and Ongoing Research
Opening Reception May 3, 6-9pm
Other Thursdays in May 6-9pm
or by appointment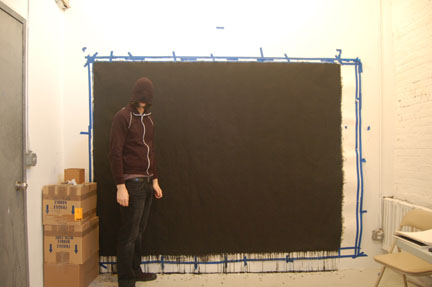 Black cat is bad luck,
bad guys wear black.
Black Ops (CIA)
Men in Black (FBI?)
Harry Crosby's Black Sun
vs
Soundgarden's Black Hole Sun
Covered by The Man in Black (rip)
Black is the color of my true loves hair,
Black, Black, Black sang Patty Waters.
Black, Black, Black
(I still vote for the first)
Jack Parson's Black Obelisk
vs.
Barnet Newman's
vs
Ad Reinhardt
(you know just in general)
and…well, I suppose…
Paint it black.

Taking a cue from the interplay of in/formal exhibition strategies and venues Mr. Como will utilize the non-traditional exhibition space at VONZWECK as an opportunity to explore the working methodology and research components of his black black black studio practice.
Displaying black research materials; black books, black notes, and black preparatory drawings, as a counterpoint to the formal gallery display of "In Praise of Darkness" at Western Exhibitions Mr. Como will allow the viewer the opportunity to extract his very black thinking process from the "finished" presentation and incite a dialogue about artistic practice.
Here's hoping for black lights.